We expanded the scope and increased drill-down in some areas for this survey of risk function practices.
Thirty-one companies completed the survey by mid 2017 and we are completing the analysis report now...
Our 2017 Survey, Designed by Energy Professionals, for all Industry Stakeholders...
The CCRO is host to many on-going discussions about the current state of our industry's risk management practices. Our discussions address organizations, analytic methods, internal policies, compliance processes, and IT systems. We know that an independent and unbiased peer survey of internal practices is an invaluable reference for benchmarking. In this vein, thirty-one companies completed our latest survey of current practices. The detailed results & discussion report is now under review by CCRO members before final publication later this year.
Survey topics addressed virtually every aspect to consider regarding the design of a company's risk function...
1. Participant demographics -
The business characteristics of our thirty-one participant companies, in special groups used to draw additional insights from survey results
2. How have companies designed their risk function? -
Risk function purview over businesses and transaction types; Positioning the risk function in the Corp; Complexity of the risk function
3. How do companies ensure governance over risk? -
Duties of the risk function; Internal and regulatory compliance; Independence of the risk function; The internal risk management committee;
4. How do companies manage credit risk? -
Credit function operations; Organization, staff, reporting; Internal policies related to credit; Limits, mitigation instruments; Credit systems
5. How do companies ensure robust risk analysis? -
Market and credit risk limits; Validating forward curves, back-testing; Scenario analyses, stress-testing; at-risk metrics; Risk-capital based metrics
6. How do companies staff with & design compensation for risk professionals? -
Staff size; Base & bonus; Risk compensation design versus other functions; Organizational levels
7. Risk Systems -
System types for various stages of the transaction lifecycle; Use of a data warehouse; Settlement systems; Trade entry and confirm systems; Market & credit risk systems
Our 2017 survey and its results have several distinct advantages.
These advantages laud the CCRO survey leadership team as visionary:
Our survey is sharply focused on energy risk management, particularly, energy commodity organizations. This "energy industry only" focus allows much more relevant conclusions than possible with typical best practice recommendations that aggregate energy, with financial services and other industries.

The survey content was developed by Chief Risk Officers and other risk management professionals in the CCRO membership. This "practitioner design" ensures that the issues are those for which our industry most needs information in order to make operations more efficient and risk practices more effective.

The common practice findings were controlled so that each responding entity is a single aggregate response, so as to limit duplicative answers from varied perspectives within a single organization. Thus avoiding a problem commonly found in broader public surveys.
2018 Events: Survey Results Workshops
The CCRO plans to host several open workshops based on this survey's results. Workshop participants will have an opportunity to discuss their perspectives and experience regarding each survey topic area while learning about the current state of the industry and CCRO recommended practices.
Our first workshop was held in May, with more planned...
Get Involved with The CCRO Today. Become a CCRO member and join our discussions of results. Benchmarking your company against the survey results is an extremely effective way to uncover gaps and to support moving forward with internal practice changes.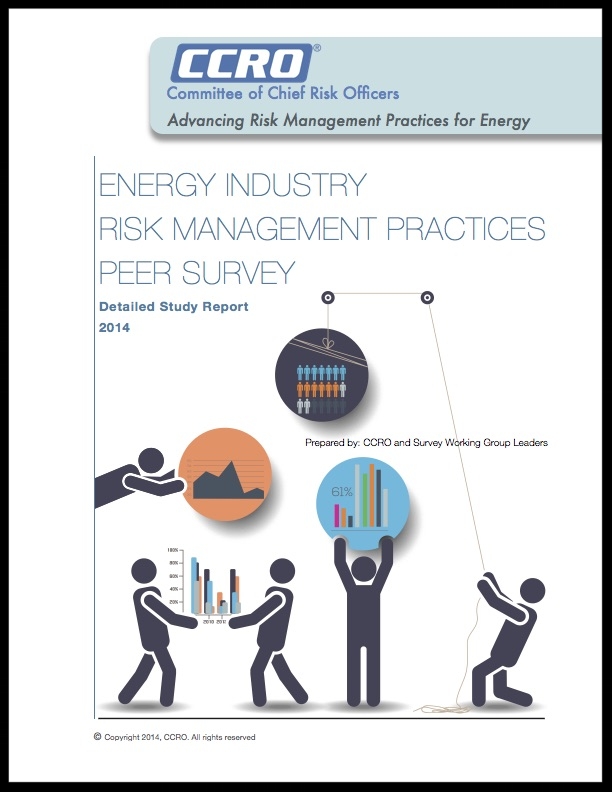 Legacy Report:
2014 Survey Reports are Still Available on Request
Our first survey and its detailed results and analysis report were published in 2014.
This sixty-page report, rich with charts and insights, is available in a professional print-published format at cost for members and to non-members for a fee. Please contact us for the details of having the 2014 report sent to you.